Step 1: Power Switch¶
You will be installing the power switch. This switch opens and closes the LameStation circuit.
When the circuit is closed, electrical current can flow, so the power is turned on.
When the circuit is open, no electrical current can get through, so power is not consumed, and the device is off.
Tools Needed¶
Parts Needed¶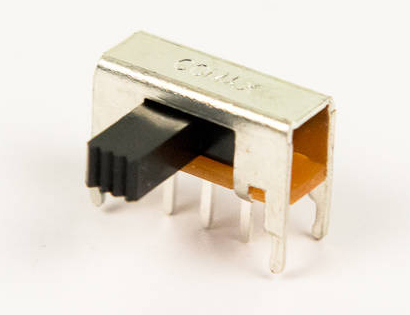 Instructions¶
Don't touch components after soldering! They will be HOT!
Find the SW1 footprint, next to the power jack.

Insert the sliding switch.

Info

Some components, like this one, won't be flush with the edge of the board; that's okay! If it fits in the footprint, and it's on the correct side of the board, you're good to go.

Solder the switch into place.